Welcome to the new home of S.V. Serendipity!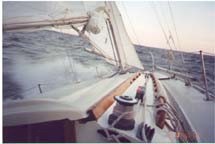 Sailing Vessel Serendipity (Lake Ontario)
As some of you may already know, we decided to sell everything off, house included, and leave our jobs. Deborah left her position as Contracts Negotiator for the Amphibious Division at Bombardier Aerospace after 20 years service. Ron sold his computer network installations company that he has had for over 12 years.
Why? We have decided to set sail for at least a year, longer if our budget allows. Our target date for leaving was July 2, 2002 but with a few delays, we eventually left July 25.
This site is for our family and friends (current and new) to follow us throughout our journey. We will post journals and pictures to this site during the trip, so keep in touch. We would love to hear from you while we are underway, so send us an e-mail (no attachments bigger than 30k, please) directly to the boat. Our on-board e-mail service will allow us to keep in touch daily. Our E-mail address is sailing@s.v.serendipity.com.
Ronald & Deborah

This page was last updated on 06/16/10.

This entire site is Copyright © 2001-2010 Ronald Ziernicki & Deborah Tottle. All rights reserved All products or services mentioned are registered trademarks or trademarks of their respective companies or organizations.